A Link Between the Cemetery and the Community
The Center is the 21st century centerpiece of historic, pastoral Maple Grove Cemetery. Peter Gisolfi of Peter Gisolfi Associates, Architects and Landscape Architects, designed The Center as a building that is both spiritual and secular, it is a link between the cemetery and the community and a place to engage visitors spiritually, physically and culturally. With an atmosphere of peace and quiet dignity, The Center offers families a place to gather for interment services, memorial celebrations and remembrance events.
Guests are welcomed into a sunlit lobby by the soft colors of a two-story stained glass window and the tranquil sounds of a waterfall. Several beautifully appointed, rentable rooms, accommodating up to 150 people, provide gracious and private settings for family and friends to come together – to share cherished memories and to create new ones. Full catering options are available in some of the rooms. Designed to be environmentally sustainable, this facility demonstrates respect for the future and reverence for the past. The Center at Maple Grove is conveniently located to all transportation, offers onsite parking and is handicapped accessible with an elevator.
 For pricing information, click here. 
This majestic room features a wall of windows overlooking a vibrant lake and lush gardens. Its beautiful architecture and décor provide an ideal setting for family and friends to gather before or after the grave site ceremony.  It can be set up for a reception or even a buffet or seated meal. In addition to Life Celebrations and Funeral Services, The Celebration Hall is used for meetings, art exhibitions and other cultural events.
A comfortable  room with a working fireplace and a cozy home-like ambiance.  The Family Room is a private and quiet space, making it an ideal setting for families and small groups to gather.
The Community Room
A light-filled space, equipped with teleconferencing and web-casting technology, perfect for business purposes or to allow families to share their celebration or remembrance event with those who are unable to attend in person.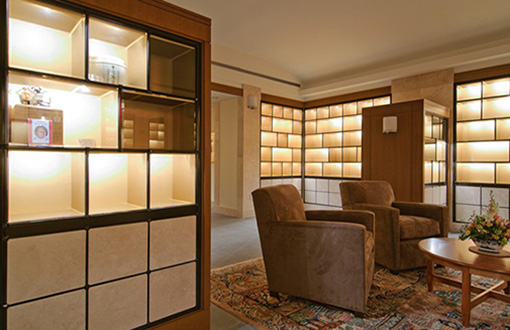 The Memorial Niche Room is an indoor state-of-the-art Columbarium located at The Center, with niches to house urns and personal items that memorialize loved ones.  The beautiful glass-front niches provide a dignified and attractive resting place for cremated remains.